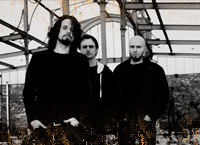 Aus 2/3 der Berliner Electrock/Indietronic-Formation FORCED MOVEMENT formte sich 2011 – auf eine sehr leidenschaftliche Bitte hin – das Depeche-Mode-Tribute-Projekt "FORCED TO MODE". Mit Matthias Kahra an der Gitarre wurde das Trio komplettiert.

Eine weitere DM-Tribute-Show? Ja und nein! FORCED TO MODE produzieren und präsentieren ihr "Devotional Tribute" auf einem Niveau, das ohne Frage seines Gleichen sucht. Das ist natürlich sehr leicht gesagt, doch die Reaktionen des Publikums und der Presse sowie die Videos von Konzerten der Band sprechen hier eine eindeutige Sprache.

Vor allem die sehr energetischen Live-Performances, die "ganz-nah-am-Original-Stimme" und die perfektionistische Liebe zum Sound-Detail machen die Tribute-Show F2Ms so einzigartig.
Die 3 Musiker widmen sich vor allem den ersten 15 Schaffensjahren des Originals. Dabei zählen stetig wechselnde Setlists sowie selten, bisweilen noch nie live gespielte DM-Songs zum großen Credo der Band. Bisherige Höhepunkte der Arbeit F2Ms sind sicherlich die 3-tägige "Violator-Tour", auf der Forced To Mode 2015 erstmals das erfolgreichste Album Depeche Modes in kompletter Länge und Original-Tracklist auf die Bühnen brachte; das 2016er Konzert im Berliner Meistersaal der Hansa- Studios, in dem DM in den 80ern drei ihrer berühmten Alben produzierten; ein Gig im Sommer 2016 auf der legendären Festung Königstein sowie das Konzert während des "Gothic Meets Klassik 2016": Forced To Mode hatte die große Ehre, mehrere berührende Titel von Depeche Mode gemeinsam mit einem Sinfonie-Orchester im Gewandhaus Leipzig klassisch-modern umzusetzen!
Das Repertoire F2Ms umfasst inzwischen über 70 Songs aller Dekaden der legendären Engländer. Und ein Ende ist nicht in Sicht…

-english -
In 2011 Forced Movement, a Berlin based Electrock/Indietronic Band, formed the Depeche Mode Tribute project "FORCED TO MODE" by passionate request.
A DM-Tribute Show once again? Yes and no. FORCED TO MODE present their "Devotional Tribute" at the highest possible level. That's been assured by audience and press reactions at live shows and videos captured at those concerts really speak for themselves. What makes a FORCED TO MODE show unique? It's the energetic live performance, an unbelievably "close to the original" sounding voice and the urge to re-create every possible sound detail.
At the previous F2M shows the band was geared to the artistic pinnacle of Depeche Mode, the 1993 Devotional tour. A milestone that celebrated its 20th anniversary in 2013. That was reason enough to devotedly resurrect a terrific show, a perfect sound experience and great arrangements true to the original.
In the meantime F2M covers further eras of DM, for instance by celebrating the 30th anniversary of the classical and influential album "Some Great Reward" in September 2014 by playing most of its songs including hits like People Are People, Master & Servant or Blasphemous Rumours.
By now F2Ms repertoire spans around 70 songs of Synth Rock institution Depeche Mode from all decades and there's no end in sight…
Zurück zur Line-Up Übersicht / Back to line-up overview